FROM THE REAL ART SPORTS DESK
McCoy, Longhorns get best of Johnson, Aggies in Texas shootout

From the AP via ESPN:

COLLEGE STATION, Texas -- Colt McCoy and Jerrod Johnson embraced at midfield after their Texas shootout Thursday night.

McCoy still has his eyes on a national title and the Heisman Trophy. And if Johnson's dazzling display was any sign of things to come, the Texas A&M quarterback could be a leading contender next year for college football's most prestigious award.

McCoy threw four touchdown passes and dashed 65 yards for another score, and No. 3 Texas overcame a huge game by Johnson to wrap up an undefeated regular season with a wild 49-39 win over the Aggies.

"What a treat to watch two quarterbacks like that," Texas coach Mack Brown said. "Fans around the country on Thanksgiving got a treat to see two quarterbacks play that well, two offenses play that well."

The Longhorns (12-0, 8-0 Big 12) have only next week's conference championship game against Nebraska standing between them and the BCS title game.

For a while, it seemed as though Johnson just might rally the Aggies (6-6, 3-5) to a gigantic upset, opening the door for TCU and Cincinnati to vault into the national championship picture.

More here.

If I'd had no personal stake in the game, I would have loved it. Instead, as always when the Longhorns are in danger of losing, it was a major nail-biter. And the prospect of losing to the Aggies...awful, just awful. Of course, we won, and it's always great to beat Texas A&M. But who knew that they would open up the great Longhorn defense like a can of cat food? I mean really, the Aggies put up some five hundred and thirty yards of offense on the Texas d. I've been saying for weeks now that Texas can beat either Alabama or Florida, but now I'm not so sure. If the militaristic right-wing rednecks of College Station can run the ball up and down the field, what's Tebow going to do?

On the other hand, as the sports analysts like to say, you can just throw out the stat books for such a rivalry game, and this one was played at Kyle field, where the 12th Man really does exist. Maybe this was the test the 'Horns failed last year in Lubbock. Maybe we've got nothing to worry about.

We'll see how they bounce back against Nebraska.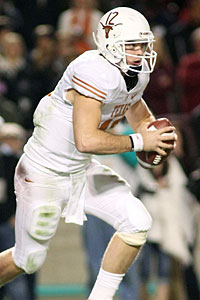 Colt McCoy was a threat running
and throwing the ball Thursday.
(Thomas Campbell/US Presswire)

I'll get to the LSU game tomorrow.

$$$$$$$$$$$$$$$$$$$$$$$$$$$$$$$$$$$$$$$$$$$$$$$$$$$$$