LES PAUL AND MARY FORD FUCKING ROCK!

From Wikipedia:

Les Paul

Les Paul (born Lester William Polsfuss on June 9, 1915) is an American jazz guitarist and inventor. He is one of the most important figures in the development of modern electric instruments and recording techniques. He is a pioneer in the development of the solid-body electric guitar (the Gibson Les Paul, which he helped design, is one of the most famous and enduring models), multitrack recording, and various reverb and echo effects.

Click here for more.

So I was watching a documentary about the famed Les Paul earlier tonight on PBS and the guy really blew me away. I mean, I've long known how he was one of the pioneers in the creation of the hard body electric guitar, and also how he invented multi-tracking, making him something of a music technology genius, but I never really realized how fucking great his music was, especially with his then wife and performance partner Mary Ford. It's a weird jazz/country fusion, with some late 40s and early 50s pop style thrown in for good measure. Not to mention the fact that his strange and melodic multi-tracking continues to astonish and amaze over five decades later.

This is some good shit.

Here, check out this YouTube video featuring their song "Sitting on Top of the World". The visuals have nothing to do with Paul and Ford, just a long shot of a sand castle being washed away on a beach, but the song kicks ass. DEFINITELY CHECK THIS OUT!!! I want to crawl inside it and stay for the rest of my life.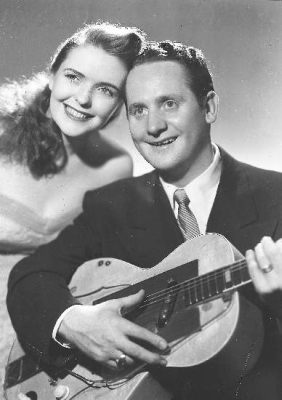 Mary Ford and Les Paul back in the day.

$$$$$$$$$$$$$$$$$$$$$$$$$$$$$$$$$$$$$$$$$$$$$$$$